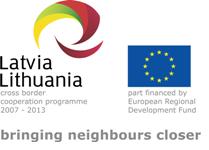 Subsidy contract on implementation of project LLIV-322  "MY SOCIAL RESPONSIBILITY" (short title My Response)were made between Kurzeme planning region and Ministry of Environmental protection and Regional development of Republic of Latvia at  23.03.2012. (Nr: LV-LT/2.1./LLIV-322/2012/11).
 
Therefore, implementation of project initiatedat April2, 2012. 
Project will be realized in 24-month period until the April 1,2014 within theLatvia– Lithuania Cross Border Cooperation Programme   2007–2013 with ERDF co-financing.
 
Total project budget is EUR 1,137,609.23, Programme co-financing 85% or EUR 966,967.85 and partner co-financing 15% or EUR 170,641.38. It is planned to invest 60,88% of total budget for infrastructure development. 
Co-financing part of Latvia partners is EUR 606,636.25, but Lithuania partners –EUR 530,973.98.
13 partners will work together.
8 partners will represent Latvia side – Kurzeme Planning region(as lead partner), Ventspils City Municipality Body "The Social Service of Ventspils City Council", Liepaja City Council, Kuldiga County municipal agency "Social service office",  Dundaga County Council, Nica County Council, Skrunda County Council and Saldus Amalgamated Municipality. For the Lithuania part there will be 5 partners–PI "Siauliai region develompent agency", NGO EDUCATIONAL PROJECTS, Joniskis "Saules" basic school, BI Klaipeda City Social Support Centreand Klaipeda City Municipality Administration.
Goal of project: To promote equal approach practicing and social integration of people with disabilities.
In order to prevent discrimination against disabled people and to promote an equal treatment of disabled people, toimprove their social integration, specific activities are planned to create attractive environment for living (among that for integration) and to develop sustainable society. The project includes explorative, educating, environment adapting, new social services developing, experience exchanging, information distributing and also existing social service quality and accessibility improving activities.
Project will implement 4 Working packages:
 
WP1 – Project management and coordination
WP2 – Joint social services
WP3 – Universal Design
WP4 – Information and publicity
 
Within the Project management and monitoring will be provided, research on accessibility made, training on work with disabled persons and persons equivalent to specific client group organized, 2 new social services (companion-assistant and short-time stay service) developed and piloted, social service data base and virtual map developed, training (seminars un consultations) on providing social integration of people with disabilities by using principles of universal design (UD) organized, attractive environment for living created – adaptions in environment (in premises, territory), experience exchange event to disseminate best practice of implementation UD principles organized, information for wider audience on UD and integration relation with best practice examples provided (information on partner's WEB pages, new section at one LV un one LT partner's WEB page, forum, informative articles, TV broadcast, information in social portals, mobile exhibition, Society campaign in municipalities) and publicity requirements fulfilled, Closing conference organized.
Contacts:
E-mail: myresponse@kurzemesregions.lv
Tel.: 00 371 27008743
 
Latvia– Lithuania Cross Border Cooperation Programme   2007–2013project "My Social Responsibility" directly will promote environmental accessibility improvement, will educate society on Universal design and adaptions in municipalities will be made, to promote social integration as much as possible.