CB786 "Nature Access to All (NatAc)"
As part of the Nature accessibility project, the NatAc project partner – Estonian Environmental Board – last year created a new and innovative educational tool, which helps to interpret nature for people with disabilities, particularly – the visually impaired.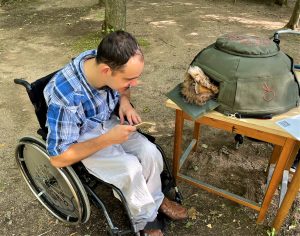 The educational tool is easy and handy for nature education specialists or guides or the person itself to go to nature and, using the chest of senses, getting to know the three ecosystems (forest, bog, coast) and the characteristic features of animals and plants in each of them, by using different senses – sight, hearing, touch, smell. In the various pockets of the senses' bags, there are different plants, stones, fossils, plaster animal foot-prints and eggs and many other stuff, which allows to understand flora and fauna through the five key senses. There are also numerous tactile cards in each bag characterising each of the ecosystems with tangible photos of animals and plants, as well as QR codes with animal and bird sounds.
Five of such bags, developed based on the Estonian methodology, were this year produced also in Latvia – three of them are available at the Nature House of Lake Liepāja Zirgu Island, one – at Kalēti Parish Council and one – at Kazdanga Tourism Information Point.
Chests of senses shall definately be exciting also for kids and schoolchildren, therefore, if you are interested in hiking a nice trail and learning about nature in an engaging and playfyl manner, feel free to contact us or the Nature House of Lake Liepāja Zirgu Island, Kalēti Parish Council or Kazdanga Tourism Information Point and ask for an excursion!
Chests of senses have been made with support of the Central Baltic Programme 2014-2020 as part of the project CB786 "Nature Access to All" (NatAc).
Information provided by:
Alise Lūse
Project Manager
Tel.: +371 26567874, alise.luse@kurzemesregions.lv