Project title:
Energetic small ports in Central Baltic region, CB845
 Project result:
The project's main results are Central Baltic small ports with improved energy efficiency and climate friendly services in a network of small ports in the whole CB area.
 Programme:
The Cooperation Programme "Interreg Central Baltic Programme" 2014-2020 financed by the European Regional Development Fund (ERDF).
Programme priority No. 3 "Well-connected region"; Specific Objective No. 3.2. "Improved services of existing small ports to improve local and regional mobility and contribute to tourism development".
 Aim of the project:
to provide climate friendly services to boaters in the Central Baltic region by investing in energy efficient technology and to formulate a joint network of energetic small ports that will be more cost efficient on operations, and jointly marketing the small ports to port visitors.
Project activities:
Define energy efficiency of small ports and make a practical guidance on energy efficiency (energy saving and investments) to small ports.
Do investments to energy efficient, green and safety services on land (e.g. solar energy, led lightning, floating bridges).
Formulate a network of CB small ports (for small port operators with each other), and on an online platform (based on portmate.eu, marinamia.eu and Masapo/SmartMarina tools), study visits and boating fairs in Finland, Sweden and Germany together with marketing actions in social media.
Project partners:
Satakunta University of Applied Sciences (Finland) – the Lead Partner
University of Turku (Finland)
Airiston Matkailukeskus Ltd. (Finland)
South-Eastern Finland University of Applied Sciences (Finland)
Riga Planning Region (Latvia)
Kurzeme Planning Region (Latvia)
Municipality of Söderhamn (Sweden)
NGO "Bläse Kalkbruk" (Sweden)
NGO "Estonian Small Harbour Development Center" (Estonia)
Foundation Hiiumaa Harbours (Estonia)
 Project duration:
01.03.2020. – 30.11.2022.
Project budget:
Total: 2,421,089.43 €, incl. ERDF Interreg Central Baltic 2014-2020 programme's co-financing EUR 1,924,156.90 €.
Kurzeme Planning Region participates in the project as a partner with the planned project budget of EUR 137,219.85 (ERDF support 116,636.87 €).
Project marketing manager
Zane Gaile
+371 29206098
zane.gaile@kurzemesregions.lv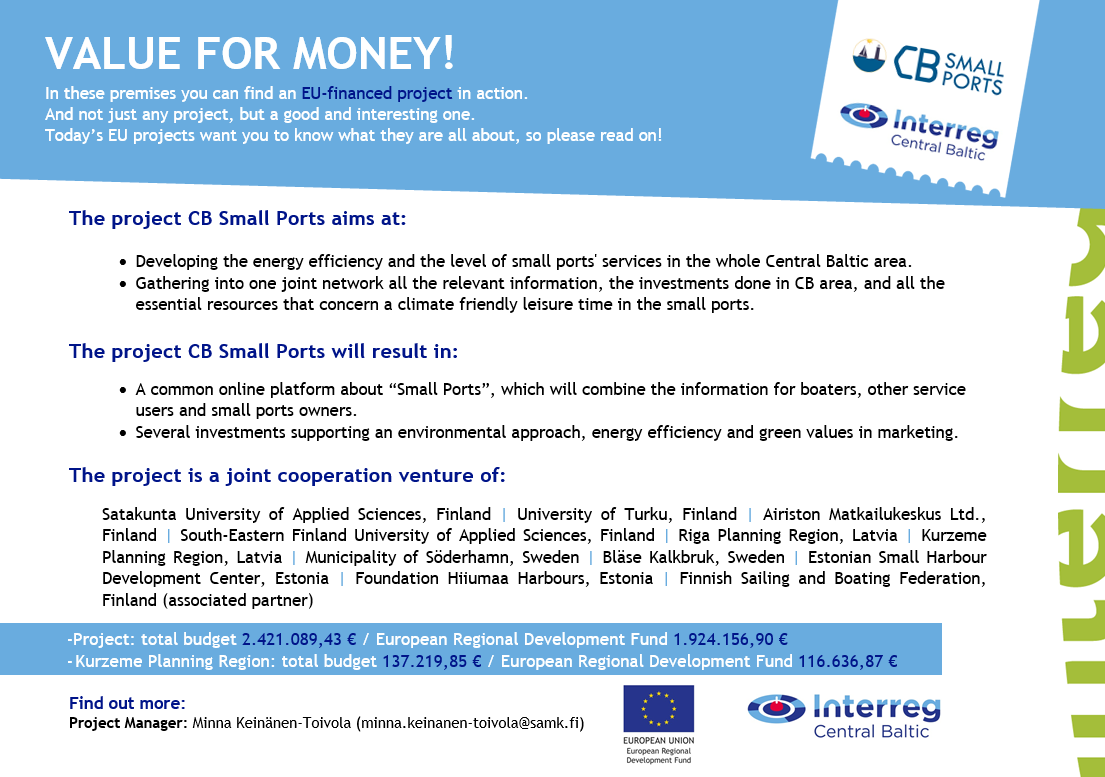 More information: https://sub.samk.fi/projects/cb-small-ports/
 This information reflects the views of the author. The managing authority of the programme is not liable for how this information may be used.