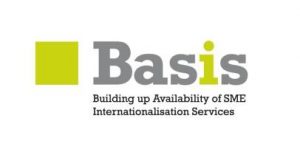 The main objective of BASIS (Building up Availability of SME Internationalisation Services) is to find ways for public business services to facilitate and support the internationalisation of SMEs. Expanding business activities to international markets is challenging for enterprises, and it is especially demanding for SMEs. 
Another equally important objective of the project is to increase the local availability of public business services to SMEs. In addition, it is important for the business advisors to have the ability to identify enterprises with internationalisation potential. Thus, it is extremely important to train the business advisors during the project.
In order to reach its targets, the project has taken a slightly different approach from the usual. It will strengthen the business advisors' internationalisation know-how and their ability to identify potential products' and services' international markets; develop organisational and regional operational models in a way that local actors are able to provide high-quality internationalisation services; identify enterprises interested in internationalisation, get them networking with each other; and identify new ways of activating SME internationalisation.
With funding from the Central Baltic Interreg IV A Programme, the BASIS programme started on the 1st of January 2011.  There are 14 partners from Estonia, Latvia, Sweden and Finland in the programme. There are universities and regional development centres involved from each country. Turku university´s Brahea Centre for Training and Development serves as the lead partner for coordinating the programme. The project will last for three years. Total project budget is 1 644 500 EUR.
 
More information is available at BASIS website: www.ttu.ee/basis
Country Contact:
Kurzeme Planning Region               
Name: Liga Neilande                                                              
e-mail : 
basis@kurzemesregions.lv
phone: +37129228043
uznemuma profils