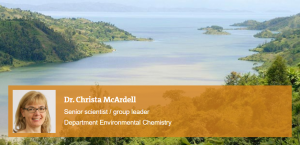 During MEDWwater middterm event Project partners had an opportunity to get to know the experience of Switzerland in the field of wastewater treatment, introduced by Dr. Christa McArdell. The expert gave presented her knowledge in "Strategical planning of introduction of advanced wastewater treatment in Switzerland"  and "Technical solutions of advanced wastewater treatment in Switzerland".
Presentations are available:
More about the expert
Dr. Christa McArdell, Senior scientist / group leader, Department Environmental Chemistry, Eawag, Switzerland – Expert about contaminants in wastewater treatment. Research interests:
Input and fate of organic contaminants, e.g. pharmaceuticals, from urban settlements in the aquatic environment.
Wastewater treatment processes and strategies for the removal of organic micropollutants in conventional and advanced treatment with ozone and activated carbon, in decentralized treatment of hospital wastewater and urine.
Development of analytical techniques for the determination of organic pollutants and (ozonation) transformation products with LC-(HR)MS/MS in sewage and ambient waters.
More information about the expert is available on Eawag – Swiss Federal Institute of Aquatic Science and Technology home page: https://www.eawag.ch/en/aboutus/portrait/organisation/staff/profile/christa-mcardell/show/ 
The Activities of the project are implemented with the financial assistance of the European Union. The content of this publication is the sole responsibility of Kurzeme Planning Region and can under no circumstances be regarded as reflecting the position of the European Union.
More about project:
https://www.kurzemesregions.lv/en/projects/protection-of-environment/medwwater/
Information prepared by:
Liena Freimane
Project manager
e-mail: liena.freimane@kurzemesregions.lv
phone: + 371 26306030